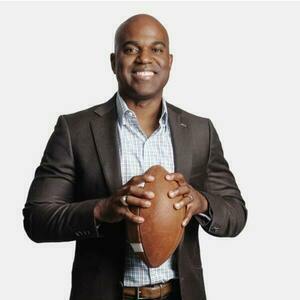 Terrence Murphy
Special guest
Former NFL player turned real-estate entrepreneur.
Terrence Murphy grew up outside of Tyler, TX in Chapel Hill. After an extremely successful football career at Texas A&M, he graduated Class of 2005 and was drafted in the 2nd round (58th overall pick) by the Green Bay Packers that same year in the NFL Draft.
After retiring from the NFL, real estate became his main focus and passion.
He became a serious investor in the Texas real estate market. He has led multiple development and acquisition companies to multi-million dollar revenues and over 250+ bed portfolios. This is where TM5 Properties originated and continues to grow and expand.
Terrence Murphy has been a guest on 1 episode.
July 23rd, 2021 | 34 mins 18 secs

Today on the Christine Spray Show, we're hosting Terrance Murphy, a household name to many people in Texas.

Terrence is a great example of someone who 'walks the talk,' and we appreciate the opportunity to walk in his shoes through our interview with him in life, family, business - and his new podcast, the Real Estate Entrepreneur with Terrence Murphy.